To insure competitive pricing and prompt delivery schedules, in 1995 Maxson undertook a multimillion dollar capital program to modernize its machining and fabrication capacity. Over the next three years, Maxson devoted resources to computer numeric controlled (CNC) machine tools, state of the art welding equipment, computer aided manufacturing (CAM) programming, advanced painting and finishing facilities and a comprehensive job shop computer program that provided real time project status and cost information. As productivity increased, business reached historically high levels.

Maxson DFK Sheeter with holographic cut-to-register ability
UNIFOIL Corporation, Passaic Park NJ USA (2001)
Despite the Asian financial crisis of the late 1990s, Maxson needed additional floor space to support its business. In 1998, Maxson broke ground for the largest addition of its history, doubling the size of the Airport Road plant. Although most of the space was dedicated to assembly bays and provisions for dedicated domestic and export shipments, the Engineering, Customer Service and Information Management Departments were relocated to larger offices too.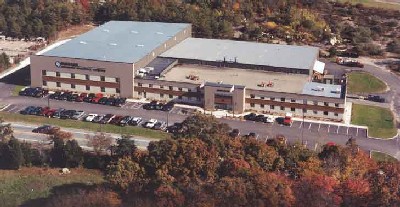 Maxson's Airport Road facility (2000)
There was also a change in Company leadership. After 50 years with Maxson, Mert Matthews retired. During his career, he was granted a half dozen patents. His more recent international patents included a cutter blade adjustment that simplified knife changes, a tandem speed slowdown design that permitted higher speeds without overlapping sheets, and the Maxson Airfoil System that increased speeds by over 200 fpm (60 mpm) at the point of overlap. His stationary bed knife and dual knife rotary cutter plans continued the Maxson engineering philosophy of providing a clean, open, friendly design. During his tenure the Company expanded its facilities eightfold.
In July 2000, Joseph F. Matthews succeeded his father as President. In 1980, Joe earned a mechanical engineering degree from the University of Rhode Island. He joined Maxson in 1983 and was assigned the responsibility of sales and marketing. He was elected Company Secretary in 1985. In 1992 he became the Vice President of Maxson responsible for Company profit and loss. Active in the Technical Association of the Pulp & Paper Industry (TAPPI), Joe served as the Sheeting Committee Chair (1988 – 1989) and as the Finishing & Converting Division Chair (1995). In 1997, he received that Division's Leadership Award.
The new millennium brought new opportunities to Maxson. There were further consolidations among sheeter manufacturers through insolvency and asset liquidation. Maxson introduced its next generation of in line dual rotary sheeters for specialty products, while realizing greater sales in its traditional converting markets.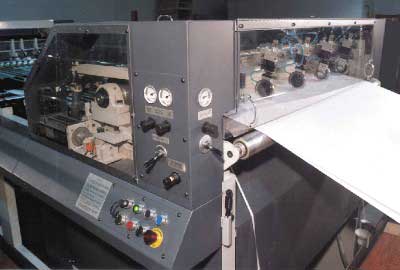 Maxson MSP Sheeter with automatic squaring system
Al Amria International, Alexandria Egypt (2001)
To better serve its overseas markets, Maxson created a sales and service subsidiary in Europe and a supply depot in the Middle East. Partnerships with sales agencies in South America, the European Community, the Near East and Pacific Rim countries have further secured Maxson as a reliable global supplier of sheeting equipment. Where appropriate, Maxson began training nationals of various sales agencies to service the locally installed base.
Maxson's ongoing success in meeting its customers' expectations is grounded in its legacy of the past – a tradition of innovative design, delivering excellent value and providing quick, responsive service.