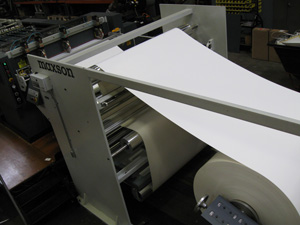 The web steering system includes a sensing head, and two parallel rolls on a common frame and pivoting carriage mounted within the web conditioning frame. Web aligners arrangements can be configured for multiple roll sheeting.
The sensing head detects the edge of the web or a line in the case of preprinted material, sending a pneumatic signal to an electronic converter. The resulting signal pivots the carriage accordingly. The web wraps around two dynamically balanced rolls mounted on the pivoting carriage, steering the web. Controls for the edge guidance system allow for automatic or manual operation.
Please contact Brent H. Burdick, Director of Sales & Marketing, for further information by telephone at (401) 596-0162 or by e-mail at bburdick@maxsonautomatic.com.