Enhancing proven sheeting equipment with new technology can be a cost effective approach to maintaining a competitive edge in the market place. Roberds Converting, a trade converter based in Loveland OH, is an example of a company that realizes maximum advantage by investing in new converting equipment and upgrading existing machinery with retrofit packages.
The dual motor retrofit replaces a sheeter's existing single motor, mechanical transmission and gears that contribute to length variation waste. Using two motors combined with high torque drive belts and pulleys to the draw drum and knife revolver insure the sheeter maintains +/-0.015″ (+/-0.381 mm) length tolerance. With fewer mechanical parts, the maintenance levels for the sheeter are reduced dramatically.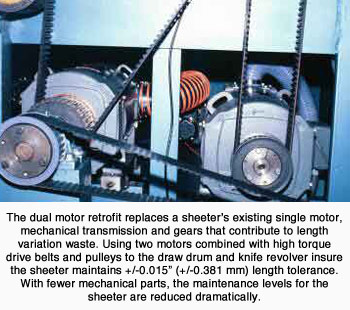 Roberds Converting traces its roots to Marion IN. Founded in 1907, the company provided pasted chipboard grades to the local furniture and ornamental steel industries. The Achberger family assumed control of Roberds in 1977 and within three years moved operations to a 16,000 square foot facility in the Cincinnati area. Following that relocation, Roberds Converting branched out from laminating into converting, supplying local printers and folding carton operations with sheeted stock. The company flourished over the next 10 years, twice moving to ever larger facilities and adding a new Maxson sheeter to its existing two Moore & White sheeters.
Roberds Converting continued to solidify its reputation in the region for timely delivery of a quality product. But as the demands of the market place required order fulfillment within a day or two, the next generation of Achbergers – brothers Jim, John and Will – were looking to reduce the maintenance requirements needed to insure the sheeters' ability to deliver press ready accuracy. The sheeters all used mechanical gearboxes to set and hold cut off length. Recalls Roberds' President Jim Achberger, "At the time we were looking at the upgrade on the sheeter we had a piece of contract business and there were times when we were expected to get out 200 tons a week. If we needed to be down to perform maintenance to maintain the sheeter's accuracy, that backed us up."
The solution was to replace the existing mechanical components that varied the sheet length with a dual motor drive arrangement. Roberds worked with Maxson Automatic Machinery Company to retrofit an electronic sheet length control system to their Maxson sheeter.
In this retrofit package, two AC vector drives are used. Each drive package governs an AC servomotor. The first motor is coupled to the draw drum; the second drives the knife revolver. Each motor is outfitted with a high resolution encoder that generates pulses during each revolution.
A microprocessor controls the motion of the two motors through the drives. The speed of the sheeter is governed by the draw motor's drive, which responds to the Operator's adjustment of line speed. The sheet length is governed by the knife revolver's drive that is programmed, through the microprocessor, to follow the draw drum's drive at a relative speed that will result in the preset length.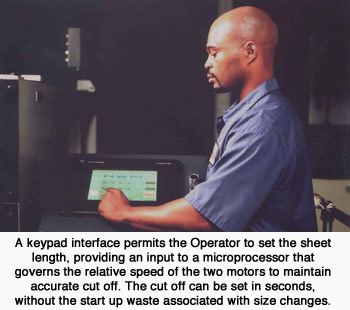 Digital signals from both motors' encoders are sent to the microprocessor, which continually compares the inputs during each revolution, correcting the knife motor speed accordingly. Sheet length tolerances within +0.015″ (+0.38 mm) are consistently maintained, regardless of speed change or length.
An added benefit is reduced set up time and the associated waste. Setting the sheet length is via keypad entry at a console requiring seconds to change the cut off. After the first cut, sheets maintain specified accuracy throughout the production run.
Further, with the electrical motors and solid state technology, there are no mechanical components to maintain to insure accuracy. Thus, consistent sheet length is sustained without maintenance of the drive as a factor in accuracy.
Finally, with the increased horsepower capacity of two motors, the cutter gear train can be reconfigured to increase the maximum line speed. Although this requires that the rotating components be dynamically balanced for the higher speeds.
"When we retrofitted the Maxson Sheeter, we were looking for less downtime associated with maintenance, consistency in accuracy and a bump up in the line speed. A year after we put that retrofit on, we were so happy with the first one that we took one of the older Moore & White sheeters and did the same things to it", reveals Jim.
Will Achberger, plant manger, continues, "On the Moore & White, the retrofit gave us the best of both worlds – increased line speed and better accuracy. They came together, hand in hand." With regards to machinery upkeep, Will reports, "Our maintenance down time has gone down tremendously. Since the dual motor drive retrofits have been installed, once we lost a harmonic card in one of the drives which Maxson was able to help us diagnose – which was fantastic."
Roberds Converting continues to thrive. Since 1995, it has invested in two high speed dual knife rotary sheeters and expanded their facility to 73,000 square feet. Between four sheeters and three guillotine trimmers, Roberds converts 25,000 tons of annually. It maintains over a million dollars of inventory ranging from 0.007″ to 0.024″ thick bleached, unbleached and recycled board grades.
Although the company concentrates on its niche of producing custom sizes for the printing and packaging industries within a 300 mile radius of their location, it also maintains standard sized sheets for immediate delivery.
With its continual investment in equipment, Roberds has also grown its business into the "contract converting" business, serving as a sheeting outlet for mills. "To be considered a resource for the mills", says Jim, "we must maintain the highest standards of cut quality and accuracy."
Since the investment in the dual motor drive retrofits, Roberds Converting no longer back trims any stock taken from either of the older sheeters. With little maintenance associated down time, production output is predictable. And Customer claims have been virtually eliminated.
Combining its more recent acquisitions in dual knife rotary technology and upgrading their existing sheeters with state of the art electronics, Roberds Converting is a model of how to increase business through savvy equipment investments.