Lakeland Paper Company, located in Sturgis, MI is one trade converter with a formula for success. Much of this success lies in the company's commitment to service and quality. As Charles Schmidt, Lakeland Paper's sales manager, explains, "During the paper shortage of the early 1970's, many small folding carton companies needed a source for sheeted stock. Lakeland Paper was founded in 1972 to serve this market."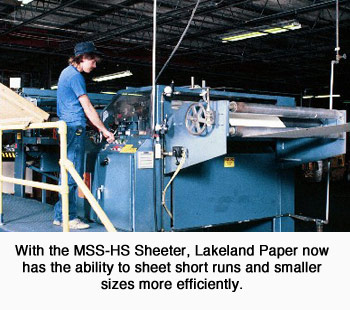 As a custom converter of paperboard products, Lakeland Paper supplies sheeted stock to paper merchants and folding carton companies. Lakeland's customer base is concentrated within a 10 state area. The company's niche lies in providing customer with quick service, even when orders are small or odd-sized. Recently, Lakeland has seen sales growth in smaller jobs ranging from ½ ton to 5 tons. Orders of this size now comprise about 35 percent of the company's total sales.
This rise in demand for smaller orders prompted Lakeland to take a second look at their sheeting operation. With 5 sheeters measuring 60″ or wider, the company was well positioned to handle wide rolls and long runs. However, Lakeland did not have a unit that could efficiently handle narrower rolls and smaller orders.
As Schmidt recalls, "Our existing equipment was not geared for short runs or lightweight calipers, and short cutoffs were a problem. When we looked at our growth pattern, we realized we had to do something." During their search for a sheeter, Lakeland identified several criteria for selection. Flexibility and ease of operation were important considerations, as were speed and accuracy.
Remarks Schmidt, "We needed a sheeter that was compact, but could still give us the production we needed." After investigating the various sheeting equipment available. Lakeland selected the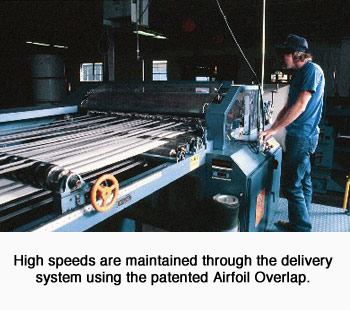 MSS-HS Sheeter from Maxson Automatic Machinery Company (Westerly, RI).
At Lakeland, the MSS-HS Sheeter handles board calipers ranging from .010 inches to .016 inches. Lakeland's product mix includes SBS, recycled and polycoated board. The new sheeter can handle rolls up to 52″ wide and operates at speeds of up to 600 fpm. These high speeds are maintained in part due to Maxson's patented Airfoil Overlap System. The device prevents jam-ups at the point of overlap, and is especially useful when sheeting lightweight calipers. Adds Schmidt, "The Airfoil keeps control of the sheets and lets you run at higher speeds."
Requiring just a single operator, the MSS-HS Sheeter has helped Lakeland to better serve their customers.
Cites Schmidt, "The MSS-HS gives us the flexibility to take on certain orders. These orders would not have gone through our converting process as easily anywhere else." In addition, turnaround times on smaller orders have also been improved. On average, orders are processed within 3 to 5 days. Says Schmidt, "Based on our needs, the MSS-HS Sheeter was a good fit."
Along with the purchased of the Maxson sheeter, the company has recently completed a 128,000 sq. ft. addition to allow for more warehouse and operating space. Both these moves should place Lakeland Paper in a solid position for future growth.
Reprinted from The Sheeting Monitor, June 1991