"In 1987, CML Industries purchased Precision Fine Papers, Inc., a Toronto based converting company providing precision cut paper and board to mostly Toronto-area printers. For the next fourteen years the company has grown and prospered," Jim Durkin, President of Precision Fine Papers said.
"Precision Fine Paper's goal is to further expand business in the Toronto area – one of the largest printing markets in North America. "Our customers are primarily large and medium size printers, but we also sell to packaging companies," Durkin went on to say. "We were working overtime every weekend trying to keep ahead of orders and it was difficult to hire talented operators which compounded production demands." Recognizing the need for expanding capacity necessitated an analysis of existing equipment and it was clear that a new sheeter was required to achieve that goal.
Precision Fine Paper began the search for appropriate equipment for their needs and talked with Maxson Automatic Machinery Company about precision sheeters. "We had been using two older and slower sheeters that required four guillotine trimmers operating five days a week to trim all four sides of a pile. This was not only time consuming, it resulted waste to the tune of $250,000 per year," reported Durkin. "We knew we had to do something to solve those two problems.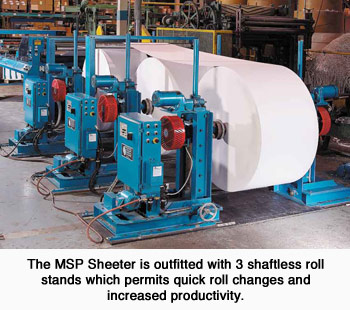 "We explained our needs, and Maxson accommodated," said Durkin. "We did a lot of 'what abouts' in our discussions with Maxson people and we developed an almost custom-made Maxson MSP sheeter to suit our present production requirements as well as our future plans for expansion. Since we supply large-format printers, we needed a sheeter that could handle sheet lengths up to 80″. To satisfy this need, Maxson custom designed a cyclic drive system as well as conventional drive system for the MSP sheeter. When a job demands long sheet lengths, the cyclic drive system is engaged at the touch-screen control panel. The knife revolver will then hesitate on each revolution allowing the draw roll to advance the paper or board to the appropriate length. At the prescribed moment, the knife revolver turns and cuts the web. This feature can be disengaged for shorter cutoff allowing the knife revolver to turn in the conventional way with the advancement of the paper and turn of the knife revolver in synchrony. Adaptations for longer sheet lengths are also incorporated in the stacker.
A cyclic drive system is incorporated into the Maxson MSP Sheeter, allowing as short as 15″ and as long as 80".
Precision Fine Paper also anticipated the later installation of auto splicing equipment for on-the-fly roll changes necessitating the installation of a reject gate after the cutter. Sensors will divert spliced or imperfect sheets from the tape section prior to moving to the stacker. "We wanted all these features right out of the box rather than have to think about retrofitting at a later date," explained Durkin.
Precision Fine Paper has about 23,000 square feet of production and warehouse space and carries over one million dollars in inventory at any given time, so there was not much space. "Already pinched for space, we wondered where we'd put a new sheeter. There was maybe twelve feet of space between the two older sheeters. Because of its compact footprint, the Maxson MSP sheeter fit nicely in the space available," said Durkin.
"The new sheeter runs faster than the existing sheeters and the whole pace has picked up in the sheeting area," reported Durkin. "In fact, there's a little friendly production competition now between machines. The MSP can sheet rolls 18-1/2″ in width if they have a 3″ core and 22″ if they have a 5″ core and a maximum trimmed width of 56″," added Durkin. "Sheeting light weight paper has been a problem for us, so we have stayed away from 40 lb. Offset and 60 lb. Coated, especially gloss. We are confident that the Maxson sheeter will allow us to sheet these grades with no problems." The precision of cut is achieved with state-of-the-art electronic cutoff control providing sheet length accuracy of ±0.015 inches and squareness accuracy to within ±0.020 inches. Because so much more work is being put on the MSP, Precision Fine Paper has retired one of the guillotine trimmers.
Also assisting in handling a wide range of paper and board weights is the patented Airfoil Overlap System that overlaps, or shingles, the cut packets as they pass through the tape section. Precision's MSP is equipped with a variable overlap that permits alteration in the amount of overlap with just a simple adjustment depending on the type and weight of the product being cut.
Another labor saving feature are the three Citation, self-loading roll stands. Web stock as large as 72 inches in diameter weighing as much as 6,000 lbs. is simply rolled in place between two posts and the roll stand raises the roll. The Citation is designed to decrease roll changeover time and increase productivity. There are no overhead hoists and no risk of injury.
Since the machine is so simple to operate, the sheeter has enabled Precision Fine Paper to reduce the production staff by four people for an annual savings of about $140,000. Precision Fine Paper has projected pay back on the MSP sheeter within two years. "We are now positioned to add a third shift, produce more and expand the market. We are targeting the packaging industry and expect to increase that business by 20-25%. We are seeing increased business because of the rapid turn around, we are able to provide. We do keep 40% of our inventory in finished stock, however, even on orders that must be sheeted, we can take an order at noon and deliver it the next day thanks to the Maxson MSP.
"We were a little concerned about service, since we are in Canada, but we had no worries. Maxson has been consistently responsive to every phone call and has offered every kind of assistance in getting us passed the normal learning curves that come from working with a state-of-the-art machine with new technologies," exclaimed Durkin. "If I sound like I'm happy, I am."
Reprinted from Paper Industry Magazine, August 2001