Phomat Reprographics does not rest on its laurels. What sets them apart is their willingness to improve the performance of established products and the service they offer their customers. With this attitude Phomat, based in Madison Heights, Mich., has grown from a small coating and converting to an innovator in the reprographic industry. Recent sheeter purchased have sped things along.
Phomat's product line includes coated and uncoated grades of paper, including vellum, blue-line, diazo film, and sepia. With a customer base from coast to coast, the company has three converting and distribution centers located in Georgia, Maryland, and Texas.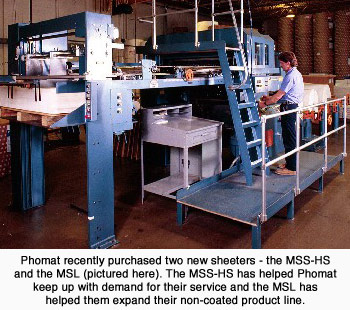 A production dilemma
Each branch has functioned in the past with its own sheeter, but with a healthy growth in sales since 1981, a production dilemma was created. "We reached a point when all our locations were sheeting full time to keep up with the demand. This caused a problem because our branches were originally set up to provide reactionary converting," says Jack Smith, president. "We saw the need to centralize our sheeting operation as a means of improving service and operational efficiency."
After careful consideration Phomat selected the MSS-HS sheeter from Maxson Automatic and installed it in the Madison Heights facility. Recalls Smith, "We wanted a high-production sheeter that would allow us to precision sheet without having to guillotine trim."
With the main sheeting operation now centralized and only "quick converting" practiced at the distribution centers, 80 percent of all orders are shipped next day. The goal, according to Smith, is next-day service on all orders.
The MSS-HS sheeter has an option package that includes an unwind stand, a decurl unit, a close tolerance drive, and overlapping delivery section. The new sheeter runs with two rolls of coated stock at speeds up to 270 fpm. The unit is in operation three shifts/day and runs continuously on standard sizes. Comments Smith, "With the Maxson we are sheeting our long runs more consistently."
The added capacity of the new sheeter has solved Phomat's production dilemma, because each branch location can now concentrate on sales and distribution. "With centralized manufacturing, we can react to our customers' needs faster. Plus, the sheeter frees up our equipment in the field to handle out-of-stock and special orders," says Smith.
Because the material sheeted at Phomat is value added, waste reduction was an important consideration. In the past, Phomat would purchase oversized rolls, sheet them, and then take a trim on all four sides. In contrast, the MSS-HS has a close tolerance drive that provides a sheet-length accuracy of +/- 0.023 in.
The results of the new sheeter have been twofold. Smith calculates a saving of ½ in./sheet, which translates into a total of 2.4 yds/package of 75 sheets. "Our percentage has dropped by 2.5 percent. Plus, we've been able to eliminate a labor operation. With the Maxson, we no longer have to guillotine trim," he adds.
A changing industry
Advances in technology, such as high fusion temperature copiers and plotters, have changed the reprographic industry over the past few years. In response, Phomat has expanded its research and development budget to design new products.
Another example of Phomat's willingness to improve on existing products and service is a new resealable package for their light-sensitive paper and film products. The new black poly package, manufactured off premises, has an adhesive backing behind a pull strip to reseal the package after opening. This prevents damage from light and other hazards.
The company has also recently introduced a non-coated product line. For this new application, Phomat purchased a second Maxson sheeter. The unit that met Phomat's requirements of high speed combined with accuracy was the MSL sheeter. The MSL, according to Phomat, cuts four rolls of 20# paper cleanly and accurately and operates at speeds up to 570 fpm.
In addition to investing in new sheeters, the company has purchased a new diazo coater from R & K Industries. With sales on the increase, Phomat's constant upgrading is a formula for success that appears to be working.
Reprinted from Converting, October 1990