All State Packaging Co., located in Opelika, Al, is a folding carton manufacturer with an eye toward the future. The company was founded in 1977 and serves a customer base concentrated in the southeastern Unites States.
The company's commitment to upgrade equipment coincides with its future plans. Chuck Bowman, All State's plant coordinator, explained: "Over the years, we have upgrade equipment in each department. As a service-oriented company, we try to look at what is needed now and what will be needed in the future."
Two areas that All State has upgraded recently are the printing department and the sheeting department. A demand for additional color work has led the company to purchase a five-color printing press. However, this created a production dilemma: The company's existing sheeting equipment would be hard pressed to keep up with the demand once the new press went on-line.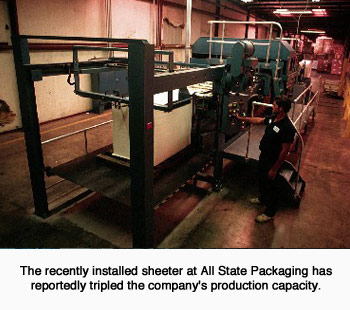 All State's search for a sheeter involved looking at both new and used equipment. "We looked at used equipment but decided it wasn't any better than what we already had. We decided a new sheeter was the way to go after forecasting new jobs and growth patterns," Bowman said.
The sheeter that could best meet All State's demands for speed and accuracy was the MSH sheeter from Maxson Automatic Machinery Co., Westerly, RI. According to Bowman, "We saw the sheeter in operation at another folding carton plant and had heard good reports."
All State claims that within two weeks of startup savings were already being realized. "Before we had the new sheeter, we were sheeting two 10-hour shifts five days a week, plus eight hours of overtime on Saturday. After the first week, we eliminated overtime. After the second week, we went down to sheeting only a single shift," commented Bowman.
The new sheeter operates consistently at 1,070 fpm. Bowman stated: "Our operator runs the sheeter as fast as it will go." As many as 18,000 sheets are produced in a single hour, compared to All State's previous sheeters, which averaged only 4,500 sheets per hour.
The new sheeter has a close tolerance drive and provides a sheeting length accuracy of +/- 0.023 inches. The sheeted stock goes on to other finished equipment such as a printing press or a die cutter without the need for secondary trimming.
Bowman reported: "Sheet length could vary on our old equipment by as much as one-quarter of an inch."
According to All State, setup time has also been reduced with a clutch box arrangement. The operator simply sets the desired cutoff. Bowman replied: "Instead of having the machine to change gears, it's all completed automatically."
At All State, the sheeter handles board calipers ranging from 0.016 inches to 0.024 inches. The company's product mix features a variety of board, such as clay-coated news back, SBS board and polycoated board.
"Occasionally, we sheet job-lot rolls, which have been sitting on one end," said Bowman. In this case, when egg-shaped rolls are sheeted at high speeds, the result could be a "taut-slack" web flow. This affects sheet-length accuracy. For this reason, All State selected a dancer roll system to absorb web fluctuation when sheeting out-of-round rolls at speeds up to 1,100 fpm. A Westvaco decurl was also selected.
Bowman estimates that the sheeter and the options have improved All State's waste reduction efforts by 90%. He added: "We have greater quality control. The sheets are square and cut cleanly with no jagged edges."
According to Bowman, the decision to invest in a Maxson sheeter was a smart move. He said, "If a company wants to maintain constant growth, then that Company has got the right equipment."
Reprinted from Boxboard Containers, September 1990