On January 1, 1991, Progressive Converting opened its doors as a full service trade converter. Located in Neenah, WI, this start-up operation was launched by the Reinhardt and Schreiber families, who between them have more than 20 years experience in the printing industry.
Pro-Con's customer base includes printers, converters and paper merchants. The company's central merchants. The company's central location places it in easy reach of markets in the greater Chicago, Milwaukee, and Minneapolis areas. In addition, the company is currently doing contract sheeting for several area mills.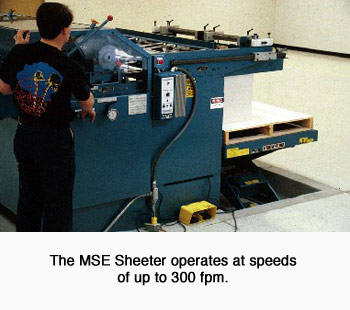 Mark Reinhardt, one of Pro-Con's partners, believes that this printing background has helped him to be more aware of what his customers need in a finished product. He sums it up in this way, "A printer needs a square sheet, a reasonably accurate cutoff, and, above all, a clean cut." These requirements were kept in mind during investigation of sheeting equipment.
Early on in this process, the company weighed the pros and cons of new versus used equipment. Reinhardt recalls, "In doing research on sheeting, I found many trade converters had old equipment, which required secondary trimming. We saw an advantage in not having to guillotine trim. Only a new sheeter could give us press-ready sheets."
Within 4 weeks of start-up, Pro-Con acquired the MSE Sheeter from Maxson Automatic Machinery Company (Westerly, RI). The MSE offered Pro-Con the ability to run trials for potential customers, while their larger sheeter was being constructed.
At Progressive, the MSE handles board calipers up to .020 inches, and paper grades ranging from 20 lb. to 70lb. The MSE sheeter operates at speeds of up to 300 fpm. On the MSE, Progressive can sheet 4 tons of 70 lb. paper during an 8 hour shift, or a ton of 0.014 inch board per hour.
The MSE Sheeter's compact size makes set-up fast and easy. The sheeter is 53″ wide and offers a sheet length range from 12-50 inches. Only a single operator is needed to operate the sheeter.
In terms of sheet length accuracy, the MSE sheets to a finished size on cutoffs under 36 inches. The sheeted stock can be packaged for shipment directly off the sheeter. Reinhardt adds, "With the MSE, we now have experience sheeting many different materials. It's helped us in starting to build a customer base."
The MSE Sheeter's compact design makes set up fast and easy. Only a single operator is needed to operate the sheeter.
To speed set-up during set-up during roll changes, Pro-Con selected a Citation shaftless self loading back stand. The shaftless design eliminates the need for an overhead hoist when loading rolls. As the operator moves the roll change is complete in under 3 minutes, versus 20 minutes with a shaft type design.
Reinhardt comments, "Eventually, I envision us a 3-shift operation, and I just couldn't see the sheeter down for 10 minutes every hour with a roll change."
Along with the roll stand, Progressive also chose an edge guidance system. The edge guidance system directs the web into the sheeter evenly, and assures a square sheet when slitting. "With this option, we have the ability to take a ¼" trim on either side, if a customer requests it."
In April 1991, Progressive took delivery of a Maxson MSL Sheeter. The new sheeter gives the company greater production capabilities and added capacity as Pro-Con's customer base expands.
The MSL operates at speeds of up to 850 fpm, and can sheet board stock up to .028 inches thick. The MSL's close tolerance drive provides a sheet length accuracy of +/- 0.023 inches.
Because a clean cut is essential when sheeting heavier board calipers, Pro-Con selected the PEN MAM dust collector as an equipment option. Reinhardt stresses, "My years of experience in the printing industry have shown me how important it is to have a clean sheet."
While the first few months of Pro-Con's operation have been spent running trial runs and establishing customer relationships, the company is now poised to enter a new phase. With a high speed precision sheeter and a growing customer base, Pro-Con's success seems certain.
Reprinted from The Sheeting Monitor, December 1991