In today's competitive market place, companies are finding it necessary to look "outside the box" for new and non traditional ways to enhance their bottom line. Midwest Converting, founded in September 1999, began with that premise in mind. Their vision is to be the supplier of converting services that offers adaptable solutions to their customers' changing needs.
Based in Bedford Park IL, Midwest Converting offers large format, folio and digital sized sheeting, trimming and winding capacity. Equipment capable of slitting up to 114″ wide rolls, sheeting up to 78″ long sheets and guillotine trimmers 110″ wide provide the facility to address most converting needs. Says Rob Srebalus, President of Midwest Converting, "Operating as an extension of our customers' business, we have the equipment to provide them solutions suited to meet their goals."
More than a contract converter that services paper mills, merchants, printers and packaging companies, Midwest Converting has leveraged its converting capabilities with strategic alliances in the warehousing and logistics sectors. Notes Srebalus, "With our partners, we provide our customers with a managed supply chain that delivers a quality product, better service standards and efficient distribution channels – all tailored to their specific needs."
But it all begins with the converting process. Midwest Converting's 256,000 square foot facility houses four sheeters, three slitter rewinders and two guillotine trimmers that collectively convert over 100 million pounds of paper and board a year. Srebalus points out, "By offering variable cost structures and flexibility in filling order sizes, we provide our customers the benefits of owning a converting facility without the structural costs that drag profitability down during fluctuations in the markets."
To be successful in this approach, Midwest Converting has to continually advance its technology. "We needed to replace an older, slower stationary bed knife sheeter that required the secondary process of guillotine trimming, observed Srebalus. "We knew the market demanded dual knife cutting technology and we needed the ability to profitably handle 2 – 3 roll sets as well as truck load production orders."
Midwest Converting considered upgrading existing equipment, purchasing a used sheeter and investing in new machinery. Srebalus reviewed their thinking, "We didn't want to buy somebody else's problems with a used sheeter. The cost of rebuilding an older sheeter was not that much less than a new machine with a year long warranty. And we needed the most up to date sheeter that could be relied upon day in and day out."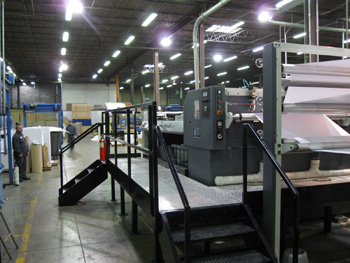 The company sought bids from four sheeter manufacturers. During the evaluation process, once the technical standards were satisfied, Srebalus identified that a United States based supplier with technical support, the cost of the machinery and proven vendor knowledge of the sheeting industry became key criteria for selecting the manufacturer. From a previous machinery purchase Srebalus learned, "Although cost is a very important issue when purchasing machinery, we have realized that a long term relationship with an equipment supplier is more important that the initial cost. Saving on the cost of a new machine today could cost you more than money in the long term."
In June 2007, Midwest Converting took delivery on a MAXSON MDH Sheeter. "The Maxson was up and running within a week of arriving on site", continues Srebalus. "It has run non stop ever since. It excels on less than 12,000 pound orders, yet has still added sheeting capacity for our customers. It has been able to run any grade required."
The MDH Sheeter was outfitted with four shaftless roll stands to convert paper or board grades. The web conditioning system used breaker roll decurllers that could reduce the curl on up to 0.030″ thick board. Able to sheet up to 65″ wide, the dual knife rotary cutter can convert a broad range of coated, uncoated and synthetic papers as well as kraft, low density and recycled board.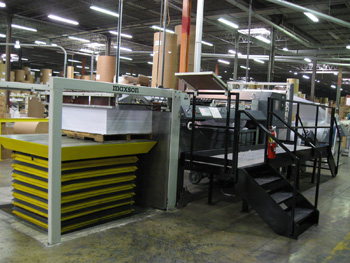 The sheeter's delivery and stacking system allows this wide variety of material to be sheeted at high speeds. Cites Srebalus, "With the Airfoil Overlap, we are able to convert 50 pound paper to 0.012″ thick board on the Maxson without making adjustments". With its small foot print, the Maxson Sheeter has outperformed our other dual rotary sheeter by 20% in productivity. And since operators are paid a performance bonus, everyone wants to run the Maxson which is easy and fast to set up."
How has this investment situated Midwest Converting as a market leader? According to Srebalus, "We realize that quality, cost and service are the most important factors in our marketplace. We have positioned ourselves with the best equipment and supporting partners to provide our customers with the lowest cost and best value service levels.
Looking forward, Midwest Converting sees a future in which paper mills will increasingly become customers of proven, reliable trade converters. Srebalus visions, "Mills have machinery directed toward high production and have less converting capabilities, whereas converters have diverse equipment that can perform a wider dimensional range and are adapted to smaller order runs. As paper making consolidate to reach higher percentage operating capacity, mills will require external converting and warehousing capacity to service their customers, preferably near the marketplace.
With a comprehensive approach to converting that involves like minded partners and routine investment in technology to offer best in class quality and service, Midwest Converting aims to be the preferred choice of converting services in the Industry.